TIMETABLE – OCTOBER 2013
Dear students,
The October session is approaching. We hope you had a nice summer and you are full of energy to learn French.
Here is the timetable for the October session, i.e. from 30/09/13 till 25/10/13 :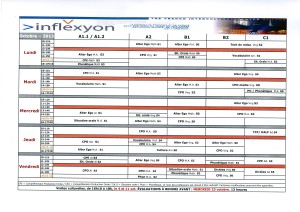 As usually, there will be two cultural visits as well :
Friday 04/10/13 – Musée Lumières
Friday 11/10/13 – Halles Paul Bocuse
We are also going to Beaujolais and to the theatre. For more information, check the cultural board at school or ask at the reception.
We are looking forward to seeing you !
Au revoir !
Inflexyon