"Bienvenue en France" quality label
Inflexyon is proud to announce that in May 2020, our school received the "Bienvenue en France" label with 2 stars out of 3! Inflexyon has thus become the first French language school to receive this certificate. The "Bienvenue en France" label, usually awarded to universities and bigger schools, takes into account the quality of the reception, guidance, and support made available to international students by the higher education institution.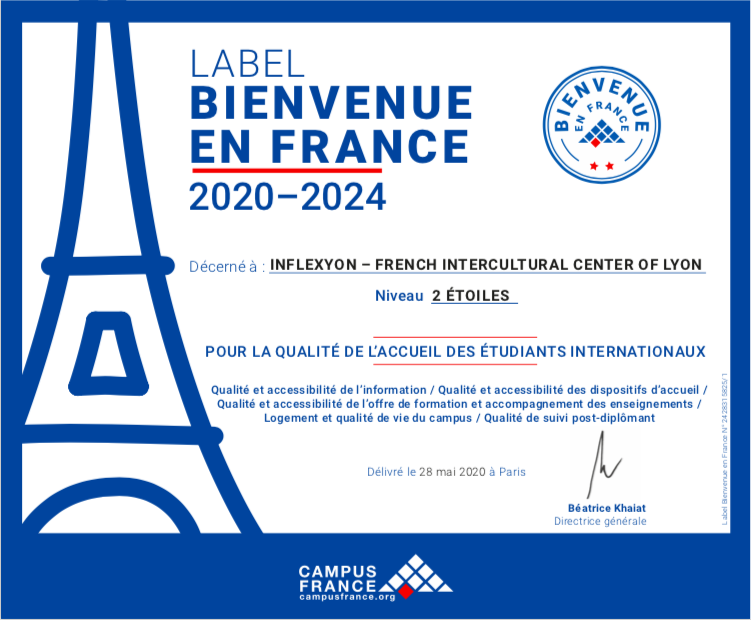 What is the "Bienvenue en France" label?
The "Bienvenue en France" label was created in 2019 by the Ministry of Higher Education, Research and Innovation, and is awarded for a duration of 4 years by Campus France.
Coming to study in France is not a decision international students take lightly! In fact, they not only need to choose among the many higher education institutions, but also to find accommodation, understand the bureaucracy of the country and its culture, and carry out all administrative procedures with a limited knowledge of French. Then how can they be certain they are choosing an institution that will be able to assist them in this process?
The idea behind "Bienvenue en France" is to provide a sure way to choose a school that will be able to help students with the practical aspects of moving and living in France.
The "Bienvenue en France" label promotes the institution's initiatives conceived to guide international students through the different steps of their stay in France. In order to assess this, 5 criteria of evaluation were established, such as:
Access to a multilingual website and online application to facilitate the registration process
An accommodation search service to facilitate the students' settling in France
Access to a multi-service desk to help them in their administrative procedures (CAF, CROUS, "préfecture", CPAM) and the provision of an information booklet to facilitate integration in France.
Welcome to France; welcome to Lyon, welcome to Inflexyon
Since its creation in 2006, our school of French as a Foreign Language strives to provide the best possible welcome to foreign students in Lyon. Our staff is open-minded, with a passion for travelling, and fascinated by foreign cultures. Each member of our team has had the experience of expatriation, and can easily put themselves in the students' shoes. Even if our team speaks multiple languages, we encourage students to start using French in their day-to-day life as soon as possible.
In order to facilitate the moving process of our international students, we offer a complete service: we offer help with administrative procedures to obtain a visa, accommodation, to open a bank account, and more. We believe that mastering the French language is crucial for a successful integration in French society. That is why we offer immersive French courses, and our professors are all qualified to teach French as a Foreign Language. As with the "Qualité FLE" (French as a Foreign Language Quality) label, our nomination to "Bienvenue en France" has allowed us to gain a broader perspective in regards to the services we offer, and the quality of our reception.