History of Inflexyon school
2006 : First French course in Lyon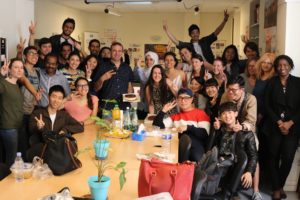 On the morning of April 3rd, 2006 Inflexyon welcomed its first student coming to learn French in Lyon, in France – Alexandra Jönsson, a Swedish au-pair in France. She was learning French from scratch with her teacher, Arnaud Duquesne, the founder and director of Inflexyon French school.
Since then, Inflexyon has welcomed more than 3.000 international students of more than 80 nationalities, each of whom has helped to write the story of our French school. Nowadays, Inflexyon offers all its services under one roof : intensive, semi-intensive and personalised French courses in Lyon all year long, for all levels from beginner to advanced, accommodation in homestays and student residences, visa assistance, French exams and certificates, cultural activities, internships and summer camps.
How did a school with one classroom and one student become an internationally recognized French-language school in France, complete with a DELF, DALF, TCF and TEF examination centre ?
2009 : French courses in Lyon for young adults, adults and seniors
Our affordable French school in Lyon attracted international students and adults from all over the world. Our French courses and programs were complete, innovative, dynamic and flexible. Whether they took an intensive or a semi-intensive French course, whether they were beginners, intermediate or advanced learners, students could learn French in courses lasting from one week to a year, they could come in the summer, in the winter, anytime-  the door was always open!
In three years, Inflexyon also developed a strong administrative support including visa and accommodation support, as well as cultural activities. International students were learning French fast through immersion in small groups and after the classes, they continued building international friendships by chatting and playing in the « foyer » – our free time room. Twice a month, they had the opportunity to discover Lyon's history and culture with the teachers during cultural visits. As a big family, we celebrated Carnaval, Easter, July 14th (Bastille Day) , Halloween and Christmas together.
2010 : Quality Label FLE for best French schools in France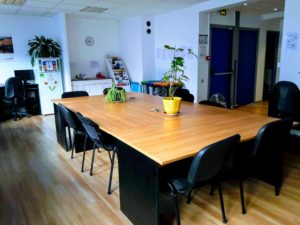 Inflexyon is proud to act as a big family and welcome students in a friendly environment for learning French. But make no mistake, Inflexyon is also a very ambitious institute with an insatiable thirst for progress.
We accepted the challenge and sent our application for the Label Qualité FLE. The preparations for the quality audit helped us to examine our way of doing things and to improve our services and procedures. After only 4 years, Inflexyon got its first French-language school quality label. After the initial euphoria, we continued on the road of improvement and we obtained the Quality Label FLE in 2014 with 14 stars out of 15 and finally, in 2018 we obtained the maximum score 15 stars out of 15.
2011 : Foreign language courses for French people
While our foreign students were learning French in small international groups, they were missing opportunities for making French friends. Since the well-being of our students is our priority, Inflexyon opened Lyon Langues – an evening language school providing foreign language courses for French people. Since then, international students have mixed with French students; they help each other in learning new languages and discovering different cultures. Living in Lyon and making local friends is the best and the fastest way to improve your French!
2011 : Student visa and Campus France
2011 year is worth being mentioned twice since in addition to the creation of Lyon Langues foreign language school, Inflexyon became a Campus France member. Campus France is an organization working under the supervision of the Ministry of Higher Education and Research, whose aim is to promote France as a study destination. They provide information about higher education in France, offer scholarships for studying in France and assist with the student visa applications for France. As a Campus France member and a recognized institute of higher education in France, our students can get a student visa for French courses in France very easily.
2013 : DELF and DALF examination centre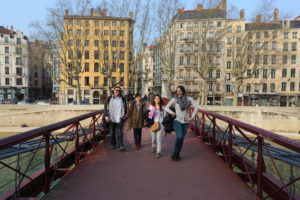 Once our students were fluent in French and integrated into French society, they wished to study at French universities. However, without the DELF or DALF certificate, international students cannot apply for university studies in France. As usual, Inflexyon accepted the challenge and applied to become a DELF and DALF examination centre. Our application was accepted. Consequently, our teachers underwent training to become DELF and DALF examiners. Since then, Inflexyon has successfully prepared hundreds of students for the DELF and DALF exams. After the success we had experienced with these exams, we subsequently applied to become a TCF and TEF examination centre as well.
2014 : Accommodation in Lyon for all budgets : homestays, student residences, hotels
Finding accommodation in France is not easy and it is even harder to book it while not being in France. From the very beginning, Inflexyon offers accommodation in host families and private student residences to its students. However, the better students feel at Inflexyon, the longer they wish to stay and the less they can spend on accommodation. As always, Inflexyon found a solution and signed a partnership agreement with the public student residence, CROUS. They offer several types of student accommodation for very competitive prices.
2018 : New premises for our French school in Lyon
After 12 years in a lovely historical quarter of the city centre, we decided to move to a modern area called Confluence. Our new premises offer access and comfort to those with reduced mobility, as well as spacious classrooms and an abundance of commodities just around the corner including: public transport, a shopping mall, a train station, a library, universities, museums, riversides and parks.
Inflexyon – More than just a French language school
French classes, student visas, accommodation and French exams – all under one roof
If you're looking for opportunities to study French in France, do not hesitate to join our French classes in Lyon. Whether you are looking to learn French from scratch during one year or to improve your French level in 3 or 6 months, whether you want to learn some basic French in one week during your holidays or business French for work, whether you work in Lyon and you would like to improve your French in evening classes or prepare yourself for the DELF or DALF exams, Inflexyon has intensive, semi-intensive and personalized French courses for you. Moreover, Inflexyon will help you get your student or working holiday visa, find accommodation and advise you on administrative procedures that are necessary for your life in France.
Inflexyon, the French school in Lyon that will give you all you need to succeed !