Timetable September 2013
Dear students,
We would like to remind you that there are no French lessons in Inflexyon from 26/08/13 till 30/08/13.
However, the school is open from 9am till 5pm, so do not hesitate to come to use the computer room, to enjoy the library or to ask us some questions.
You can find here under the timetable for the first week of the September session (02/09/13 – 06/09/13).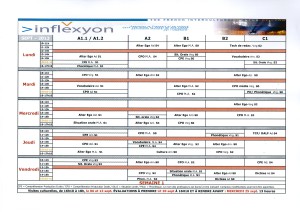 We hope that you are enjoying your week of holidays, that you are traveling lot and relaxing.
We are already looking forward to seeing you in September,
All the best,
Inflexyon team